Organic Producers in Tasmania
In February 2020, Australian Organic CEO Niki Ford travelled to Tasmania to meet with members and learn more about their certified organic businesses.
Despite the adverse climatic seasons experienced by mainland states in late 2019 / early 2020, Tasmania's agricultural industry has continued to grow annually and is now valued at more than $1.6 billion.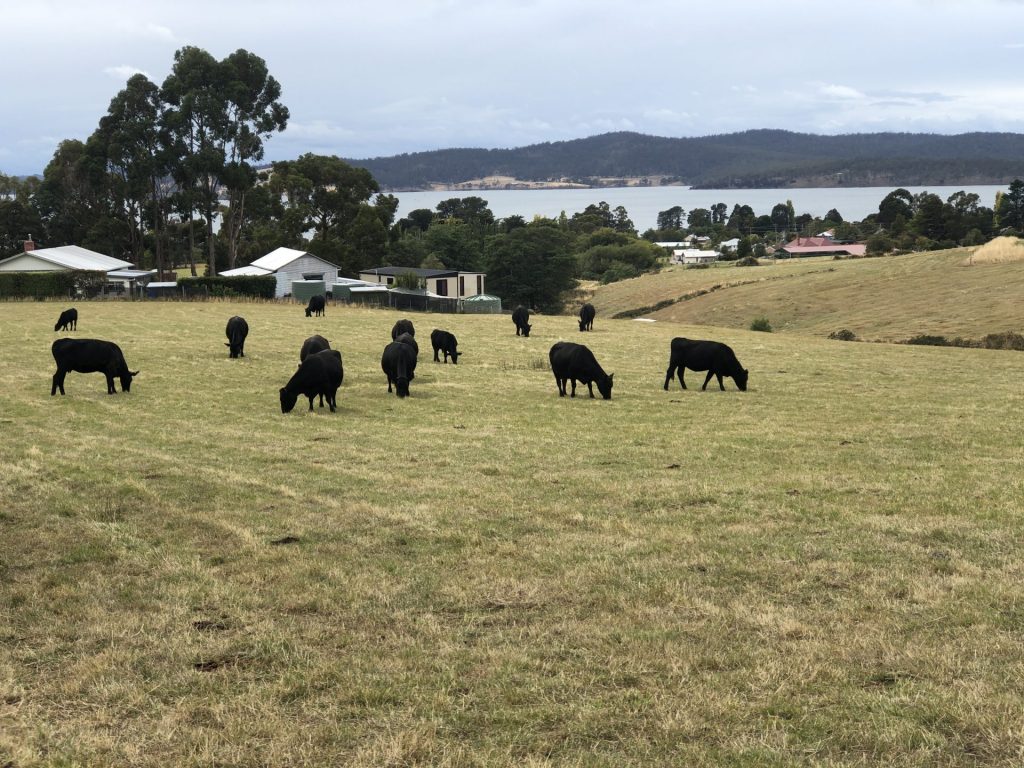 Rex Williams, Kelty Farm
Rex Williams is President of Tasmanian Organic-Dynamic Producers Inc. (TOP) and manager of his own organic operation – Kelty Farm. Niki sat down with Rex to chat over coffee at his farm property in Woodbridge, 40km south of Hobart. Overlooking Bruny Island, the farm has rich soils and abundant annual rainfalls – making it ideally situated for producing premium organic beef, pork and a variety of fruit.
Rex has been an organic producer for 20 years, with Black Angus cattle making up a large part of his primary production. Angus makes up the majority of beef cattle raised in Tasmania, with large demand from overseas markets for Tasmanian brands. On Kelty Farm, Rex's Black Angus cattle graze on lush Channel pastures and are supplemented with the farm's own organic hay in the winter.
"Our customers can be assured that not only are they receiving a quality product, but one that is pure and that has kept the depletion of the Earth's resources to a minimum."
Rex also breeds and rears organic Berkshire and Wessex saddleback pigs – working with Willie Smith's, an organic cider orchard and distillery in Huon Valley, to utilise and recycle excess outputs into organic pig feed (namely apple fibres). The pigs are also fed on organic grain, organic dairy and Kelty Farm's own apples. Rex commented that the pigs take around 12 months to grow to full size organically, whereas conventional pigs can reach optimum size in just 16 weeks. For this reason, Rex's pigs make up a small part of his farm operation, providing small goods to local retailers. Rex also grows organic Gala, Fuji and Pink Lady apples in his orchard, with many of his apples found in Woolworths Macro Organic ranges. The cooler European climate provides perfect growing conditions for the fruit and Tasmania is often known as "prime apple growing country."
Established around 30 years ago as an organic certifying body in Tasmania, TOP merged with what was then known as Australian Certified Organic (now Australian Organic Ltd) in April 2015, providing auditing under the ACOS. The merger aimed to both support, strengthen and offer greater opportunities for organic producers in Tasmania, as well as supporting producers wanting to make the switch to organic. From then, TOP no longer provided certification services but continued to support the organic industry in the state.
Today, TOP is sadly coming to an end. After over 30 years of supporting the industry in Tasmania, TOP will most certainly not be forgotten.
---
Tasmanian Agricultural Minister's Office & Agrigrowth Tasmania
Hopping back into the city, Niki visited the Tasmanian Agricultural Minister's office and met with Vanessa Pinto, Chief of Staff for the Hon. Guy Barnett MP, and Jo Crisp, Manager of Agricultural Development and Policy at Agrigrowth Tasmania.
Niki reported that there was, "an encouraging and positive discussion around the value of the organic industry in Tasmania," with both staff members showing support for Australian Organic's vision of Domestic Regulation for 2020 – highlighting that smaller growers would also need to be considered in any future discussions.
Tasmania is the only state in Australia with a GMO Moratorium (i.e. a total legal ban of GMO) which has recently been extended for a further ten years. This provides a beneficial and unique selling point for Tasmanian growers, especially within the organic export markets.
The Tasmanian Government has also developed the Organics Industry Development grant – a $230,000 grant to assist farmers, producers and agri-food businesses interested in transitioning to organic production methods and market development. This State Government-based grant is the only one of its kind in Australia, and further solidifies the Tasmanian Government's support for organic growers in the region.
---
Alexandra Mitchell, Agrigrowth Tasmania
Niki caught up with Alexandra Mitchell, Agricultural Analyst at Agrigrowth Tasmania (DPIPWE), over a coffee to talk about the organic industry and provide an update surrounding Australian Organic's activities. They were also able to discuss how the organic industry can be better supported in Australia, including the potential for Australian Organic to host a forum surrounding the veterinary care update. Alex commented that Australian Organic's holistic approach was 'refreshing'.
Alexandra has had a long-standing career in agriculture and forestry since graduating from University in 1992. She worked with CSIRO Forestry and Forest Products for several years, specialising in population and molecular genetics – studying native Australian species and the commercialisation of seeds for forestry use. She then moved to the Commonwealth Department of Agriculture in 2001 to work in industry development programs, including grants for education and training. Alex joined the DPIPWE in 2005 as a Policy Analyst for the primary industries sector, which included work surround organic industry policy and development of the first domestic organic and biodynamic Standard with Standards Australia (AS 6000). Today, Alex works as an Agricultural Analyst within DPIPWE'S AgriGrowth Tasmania Division, providing expertise in agricultural and rural sectors.
Biofarms Tasmania
Biofarms Tasmania is owned and run by the Benson brothers – Mark, Chris and David – who welcomed Niki to a tour of their farm and their operation. Located near the small village of Forth, just outside of Devonport, Biofarms Tasmania produces a variety of certified organic produce suitable to the cooler Tasmanian climate, including potatoes, carrots, onions, pumpkin and brassicas. Alongside conventional non-organic produce, Biofarms Tasmania produces a large number of certified organic products within their range, with some still in-conversion. The majority of their produce goes to the mainland, supplying retailers and distributors.
Early this year, Biofarms Tasmania became a beneficiary of the $30 million Woolworths Organic Growth Fund – established in partnership with Heritage Bank to help Australian farmers meet the growing consumer demand for organic fruit and vegetables (read more here).
The Benson's said they will use the $500,000 interest-free loan to improve productivity and efficiency on their 300-acre farm by purchasing new machinery and equipment, and upgrade their current irrigation system to support their organic operation. The funds will also be put towards new packaging equipment which will help to provide sustainable packaging – a large investment for organic producers and operators. Holistically, the Bensons aim to use the funds to help facilitate the increase in demand for certified organic product as well as the ability to implement more environmentally-friendly production methods.
Biofarms Australia expect to begin supplying Woolworths with organic vegetables from spring 2020.