Peace, Love & Vegetables: Healthy Probiotic Goodies from Byron Bay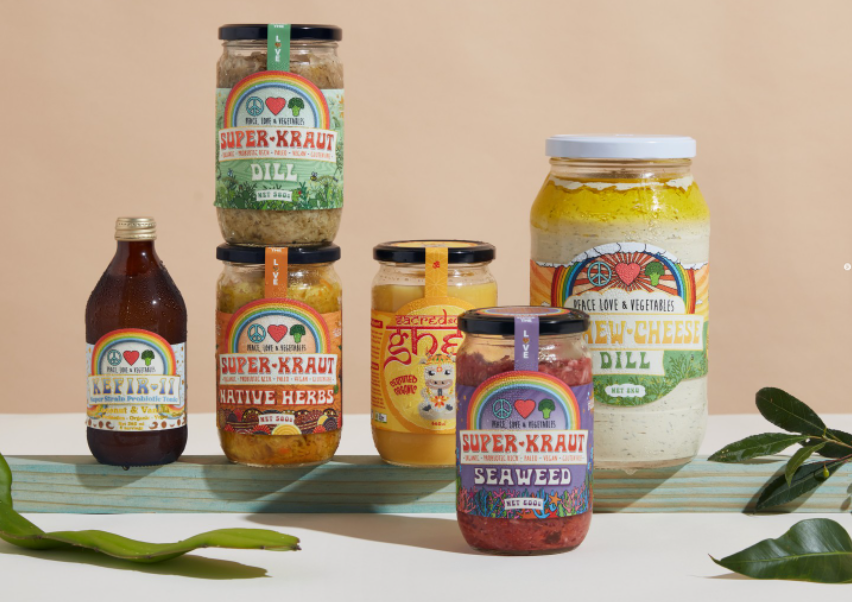 The story of Peace, Love & Vegetables started in 2011 with Anya and Adam in the beautiful Byron Bay region. Full of ambition to share their passion for healthy food, the couple is producing one of the first sauerkrauts in Australia and other raw and certified organic foods such as kimchi, super-kraut, kefir and even probiotic-packed cashew cheese.
Both Anya and Adam are life-loving individuals, passionate about nurturing their community and integrating holistic living and healthy products into everyday life. With a Russian background, Anya grew up pickling and preserving beetroot, krauts, tomatoes, mushroom, jams and garlic to ensure vegetables and fruits were available during the long cold winters.
When a health professional recommended that Anya should eat kraut with every meal to heal her long-lasting gut issues, she started making her own sauerkraut. After meeting Adam in Australia in 2011, their combined passion led them to move from their own kitchen to create their unique brand: Peace, Love & Vegetables.
After perfecting their best-selling original sauerkraut, Anya and Adam diversified and began offering a wider range of products. Their current Super-Kraut range is probiotic-rich, gluten free, vegan and paleo, with exciting varieties such as Beetroot & Herbs, Cucumber, Seaweed and even a spicy Chipotle. A wide selection of cashew cheeses are available, as well as kefir probiotic tonics and even Barukas nut products, which are widely claimed to be the healthiest nuts in the world.
Peace, Love & Vegetables have always offered mostly organic products, but the founders sought to finalise their organic certification 6 years ago to better align their values and continue to grow trust in their brand.  Adam recalls the audit process was easier than he thought given the company's commitment to best practice, stating "…once you have the system in place, it's not much extra work."
Anya and Adam have no intention to become the largest suppliers of fermented products in the country; their focus is to maintain the highest possible quality by serving their loyal customer base and targeting distribution across independent retailers, health stores and some IGAs.
If you are looking to support your gut health by increasing your fermented food intake, please visit the Peace, Love & Vegetables website for a full list of stockists local to you.